| | |
| --- | --- |
| Art is Kitsch | History is Kitsch |


The General Art-Strike (May 1991)
and
The Perpetuum Mobile


Dear Colleagues!

The Strike as such is an aesthetic-ethical operation on the deformed body of the reigning Myth.
The Strike - by definition - is declared on the territory between Genesis 15 to 24.
This obscure territory is the theo/logical link of the sweaty cause and deadly effect.
The Gustav Metzger-Stewart Home proposition enlightened the social implications of this relation: - the Art-Strike clearly defined its position on the Market of the Myth.
The International Paralell Union of Telecommunications (IPUT), (involved in the cultivation of newly-established dictionaries of extra-mythological languages, practicing different forms of Art-Strikes under the general title: The Subsistence Level Standard Project 1984W) calls for an international and simultaneous event in the frame of the Art-Strike (1990-1993):

The general art-strike (may 1991) and the perpetuum mobile -
One could add to the already existing model:


(one can't help but define oneself between the extremities) - a new element: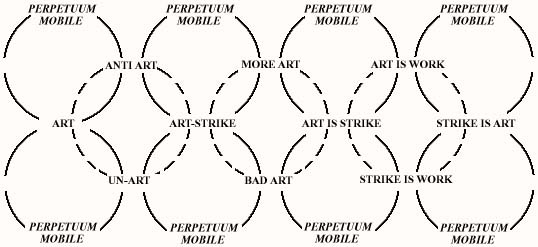 These models - and others - are applicable and applied already by art-strikers, artists, art theoreticiens, art-crtitics, art organizers, art-dealers and the public for self-definition and consequently - for the development of the Art-Strike-Dictionary which emerges inexorably in front of the awkward and corrupt Myth.
The participants should arrange the <General Art-Strike (May 1991) and The Perpetuum Mobile> themselves and/or send their proposal to one or two or all of these addresses before the end of April 1991:

FRI-ART
Case Postale 354
1701 Fribourg
Ch-Switzerland
T.: (037) 23 23 51

INEXISTENT
Volk Straat 45
2000 Antwerpen
B-Belgium
T.: (03) 237 73 62

RUINE
15 Rue des Vollandes
1207 Geneve
Ch-Switzerland
T.: (022) 736 60 37
Fax: (022) 28 55 97

Each proposal will be displayed in May 1991 and/or published by the organizers, and will be returned if requested.

Michel Ritter
(Fri-Art)
Chris Straetling
(Inexistent)
Tamas St.Auby
(IPUT-Ruine)