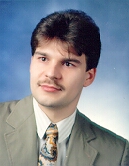 Tamás Bartha
Tamás Bartha is a senior research fellow at the Systems and Control Laboratory of the Computer and Automation Research Institute of the Hungarian Academy of Sciences. He holds a Master's Degree in Electrical Engineering and a Ph.D. degree in Computer Science. He is part-time senior lecturer at the Budapest University of Technology and Economics, where he is member of the Fault-Tolerant Systems Research Group at the Department of Measurement and Information Systems Engineering.
He was visiting scientist at the Istituto di Elaborazione della Informazione of the Consiglio Nazionale delle Ricerche in Pisa, Italy; and the Department of Computer Structures (IMMD3) of the Friedrich-Alexander University in Erlangen-Nürnberg, Germany.
His research interest includes: fault-tolerant computing, fault diagnosis, distributed and parallel digital computing and control systems, hybrid systems.
Address
Systems and Control Laboratory
Computer and Automation Research Institute,
Hungarian Academy of Sciences